I think that the lady crouching down might be Cynthia Tyde Pease.
Edward C. O'Donnell & Ruth J. Coons O'Donnell
(Ruth 1/18/1906-7/08/1994)__Edward
2/11/1911-8/04/1994)
Ruth J
Coons (daughter of Clarence and Daisy M Coons; --Troy
Stephentown Road) My Dad and his family (Southards) for many years lived in the old schoolhouse in West Stephentown (Where my mother and Helen Kenyon went to school together) I used to have pictures; but sadly a fire destroyed most of what I had.
My Dads stepbrothers and sisters were Southards--he only had one real sister Margaret O'Donnell LeBarron who lived in Vermont His real Father was James O'Donnell whom Dad said was a seaman; and was lost at sea during a storm when he was just a very small child)
My mother was a Coons; daughter of Clarence and Daisy M.Coons Her Brother was James W Reichard. Clarence Coons was a schoolteacher.
Both of my parents are buried in Garfield Cemetary.
Hall and Higgens Funeral Home was in charge in the summer of 1994.
My parents requested no markers on their plot. Many did not understand this, but it was their strong request; and I their only child; tried to granted their wishes.
Anna Caverly Barkman was my Dad's Mother. She was born in Canada, and is buried also at Garfield Cemetary. His Brothers include James Southard Of Hancock Mass., Walt Southard of Stephentown, Pete Southard of Pittsfield, Mass., Harold Southard of West Stephentown, Steve Southard Of Washington, Mass. Sisters Include Margaret O'Donnell LeBaron VT;, Rosie Southard Boise, Daytona Beach Fla,; Irene Southard LeBaron Of Lanesboro, Mass., Anna Southard Waterman Of Daytona Beach Fla; Francis Southard Of Daytona Beach, Fla.
Some of these listed are deceased.
Sent in by this couple's only child Ruthann O'Donnell Lange.
ruthsartpage@yahoo.com
For the family website, click here.
---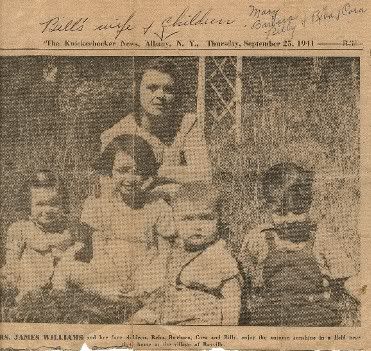 Mary Lillian Hamilton Williams, wife of James William Williams, with four children, Reba, Barbara, Cora and Billy, enhoy the autumn sunshine in a field near their home in Rayville.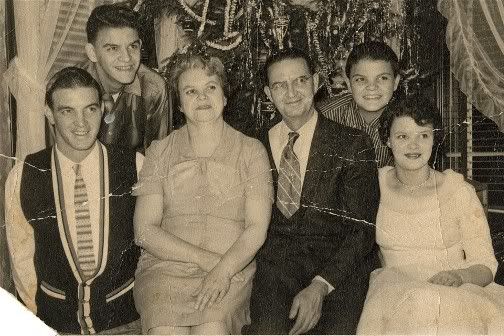 James William Williams, Wife, Mary Lillian Hamilton Williams, and children, William, Floyd, John and Cora (Dawn Sherman's mother) New Years Eve, 1958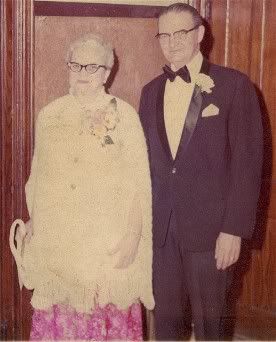 James William Williams and Mary Lillian Hamilton Williams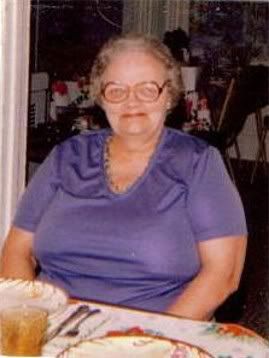 Elizabeth Williams Houghtling, widow of Spencer Houghtling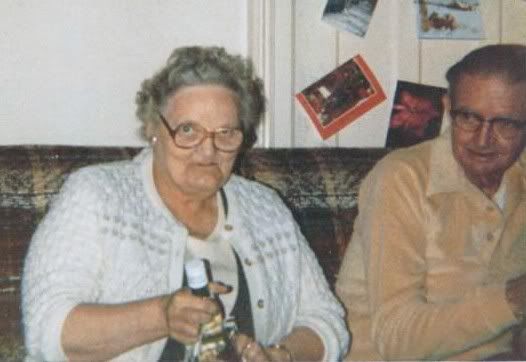 Elizabeth Williams Houghtling and James William Williams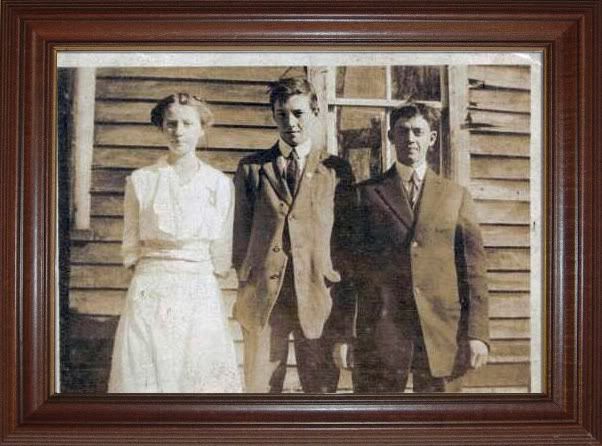 l-r: Delbert Williams; "Ham" (Alexander Hamilton Williams); Lottie Williams, first wife of Spencer Houghtling. These children were brothers and sister of James Williams.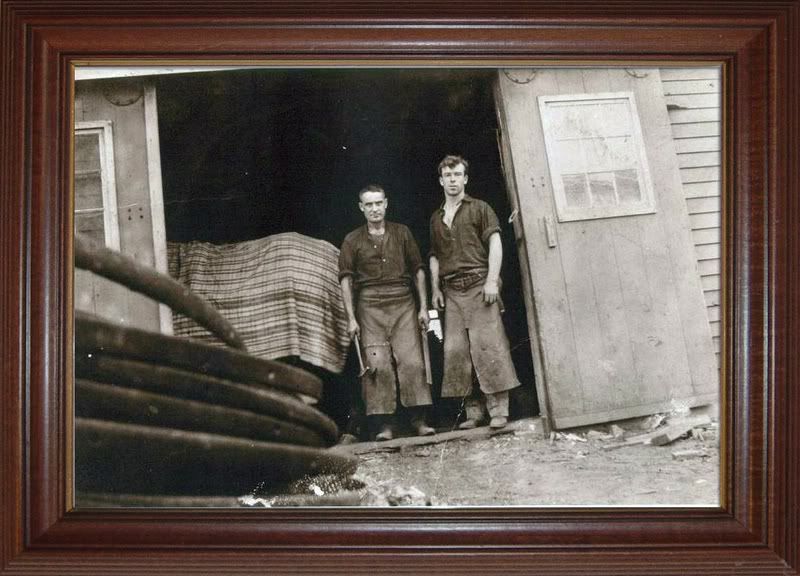 Floyd Hughes on the right. He was the husband of Cora Williams Hughes. She was Dawn Sherman's grandfather's sister.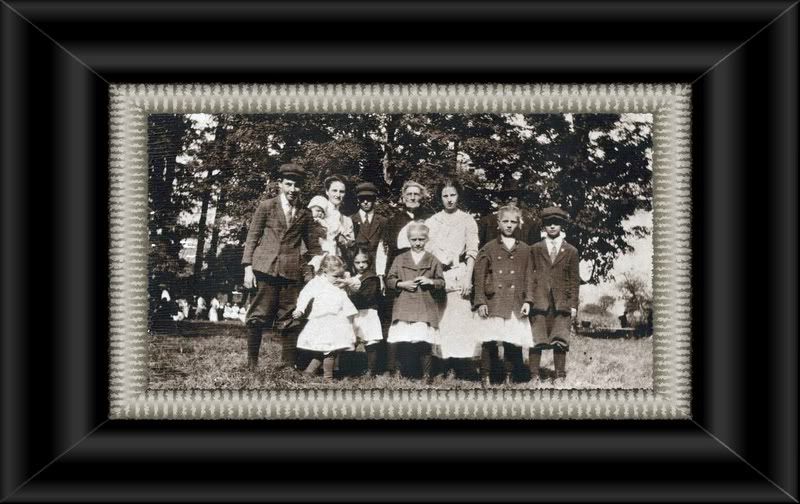 Dawn Sherman's great grandmother Gracia Augusta Hassan Williams holding Dawn's grandfather, James Williams. Lady in the middle is either Gracia's mother or Alexander's mother. Alexander Williams is on far right with hat on. In front left, the little blond is Elizabeth Augusta Williams Houghtling, second wife of Spencer Houghtling. Lottie, Bessie and boys are in the picture as well, but Dawn isn't sure who is who. She thinks that the dark haired girl next to Elizabeth is Bessie Rose Williams Face. The tall girl might be Lottie.
Thanks to
Dawn Sherman
---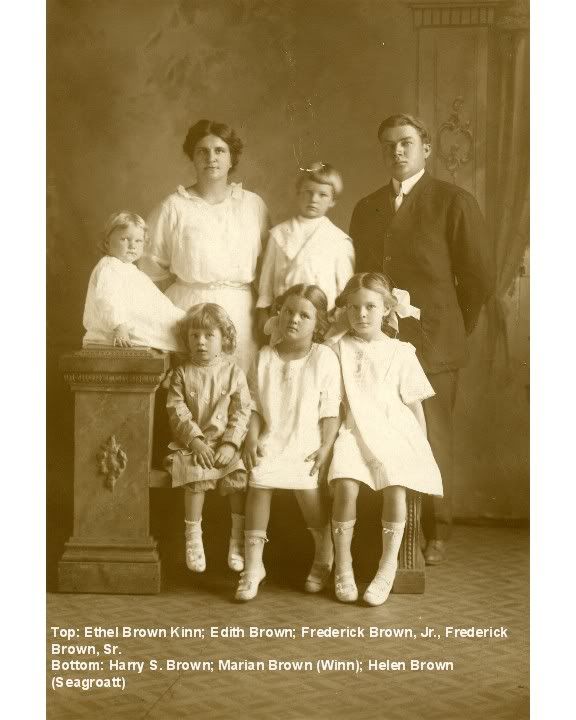 Courtesy of Susan Rhenow
Mr. and Mrs. Brown went on the have two more children, Robert and Norman Charles, Susan's father.
---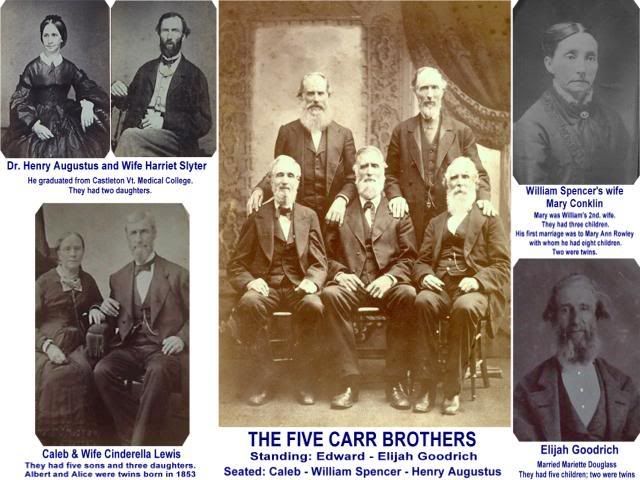 These are the sons of Spencer Carr and Zylphia Goodrich. Spencer was the son of Deacon Edward Carr. This photo was sent to me by
Fred McCord.
Deacon Edward Carr built his home in Goodrich Hollow, near Kinderhook Creek. He organized the Baptist Church with the help of Joseph Rogers and Jonathan Howard. Another settler in the south part of Stephentown was Caleb Carr, Edward's brother.
Elijah Carr graduated from the University of Michigan as a civil engineer and worked as a surveyor on the Gage Canal water project in Riverside. He also raised peaches. About 1913 the family moved to San Pedro, CA where he was a realtor and owned an insurance business.
---