---




How many people in the United States have your name? This is fun. Check it out.
---
---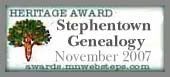 ---
Congratulations Tina! I am very pleased to award you two of my genealogy awards.
I found your site very informative and well presented. It's an asset to the online genealogy community. Keep up the wonderful work!

Take care,
Paula

---
2004


"You have a wonderful site!! You can
tell you put alot of time and love
into it! I would love to present you
with my award. Kathy"
"I'm impressed. You have amassed a great amount of information and it's absolutely wonderful you have chosen to share your research with others!
I thoroughly enjoyed your website and only wish I had ancestors from Stephentown.
I'm sending along the award from "Connie's Family History Pages" as a small token of recognition for a 'job well done!'"
"You have a beautiful site with lots of good information. You should be proud! Please accept the "Genealogical Excellence Award." What does this mean? Well, it's a thank you for contributing to online genealogy and family history."

I enjoyed my visit to your site. Please accept my genealogy award.
"Good job. Keep up
the good work.
Jay"

"You have a great site. I am pleased to
present you with the Bob's Family
Genealogy Award of Excellence. - Bob

"Your site is an asset to online genealogy."



---
Please rank our site. Click the links below and your vote will automatically be tallied.
---
The Genealogy Home Page
All Genealogy Sites Directory
Visit Interment.net for cemetery records online.
---
---