In our family, this is referred to as "The Chair." My parents bought this for me when I as about a year old. The photo on the top right, is my brother Eric at about a year old, and me at just 2. It was taken for Easter, 1952.
In the second row of pictures, on the left are Chris, age 8 and Kim, age 3 in 1978. They are my children, and we were at my parent's house in Newton, NC. I wanted to get a picture similar to the one that my brother and I had taken over 25 years before. The photo on the right is my grandson, Kim's son, Sebastian, taken in 2002, 50 years after the first picture was taken.
The Chair is a bit worse for wear these days, have been used as a chew toy by one of my parent's pet dogs many years ago, but it still means alot to me. When my granddaughter is old enough, I will get a picture of here in the chair as well. Eventually, I will pass the chair on, and hopefully my children and theirs after them will carry on the tradition of having their children photographed in The Chair.
---
I was honored to visit with Joyce Stanga and her wonderful parents, Dece and Betty Auger Vanderbogart in their home in Pittsfield, Massachusetts, in October of 2006. Their home is filled with family heirlooms, and Joyce and I spent some time walking around the house and taking pictures of some of these prized possessions. The descriptions here are from Joyce.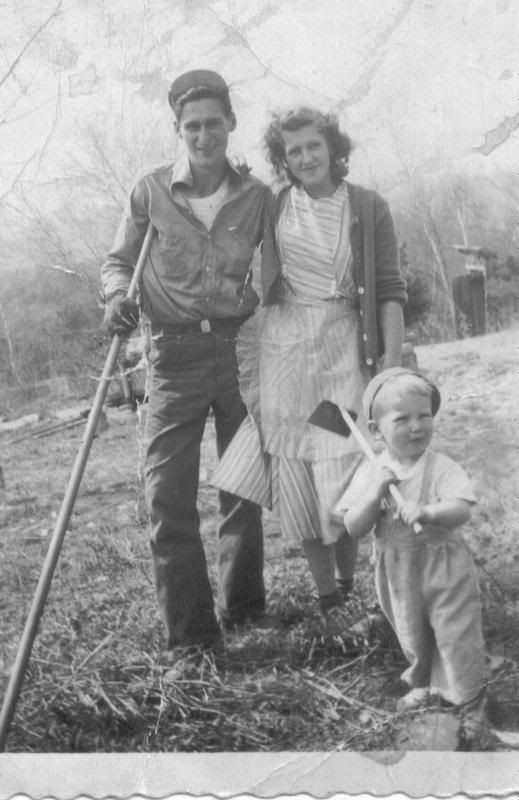 Fred Vanderbogart with wife Alice and son Bobby. Bobby is now a dairy farmer in Missouri.




Sue Tarpley's dad, Wesley Baker, gave his mother, Ella Auger Baker this picture, bought with money he earned selling papers on the street corner, yelling "Extra! Extra!" It now hangs in Joyce Stanga's parents home in Pittsfield, Mass.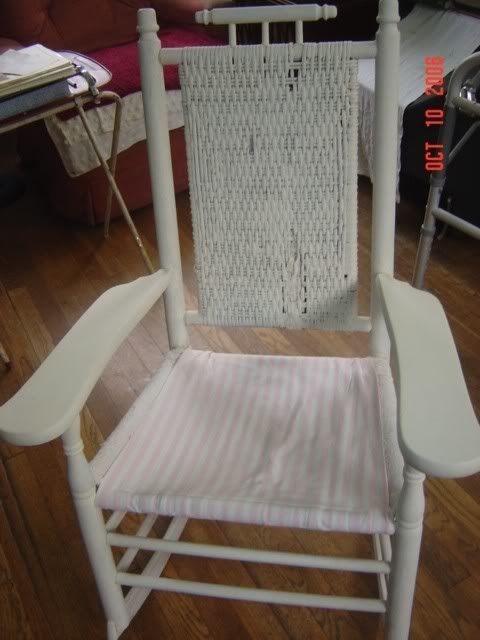 This rocking chair belonged to Anna Houghtaling Smith. Children in the family sat on the arm with Anna in the chair. (Note from Tina - This chair has an honored place in the home of Dece & Betty Vanderbogart in Pittsfield, Mass., and was offered to me to sit in when I visited with them and their daughter, Joyce Stanga, in October, 2006.)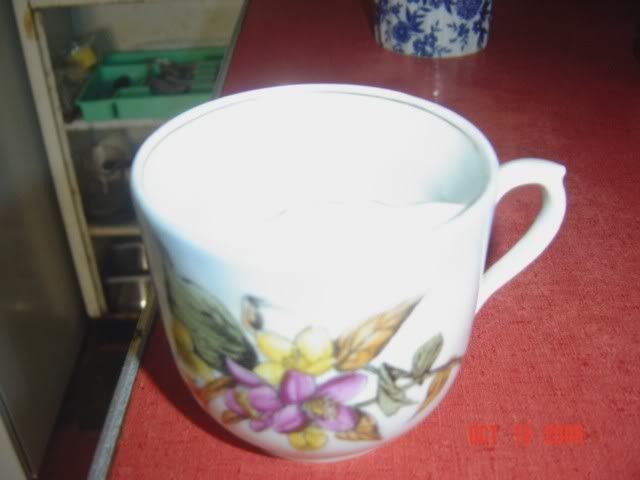 This is a mustache cup, which belonged to John Richard Smith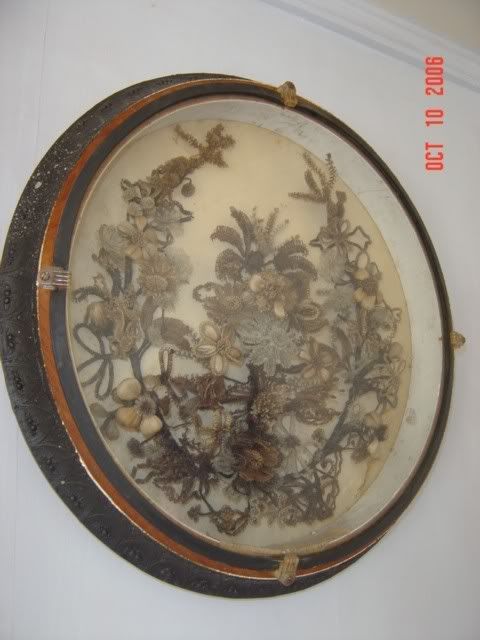 This is a hair wreath, made by Ellen Beers Houghtaling in 1865.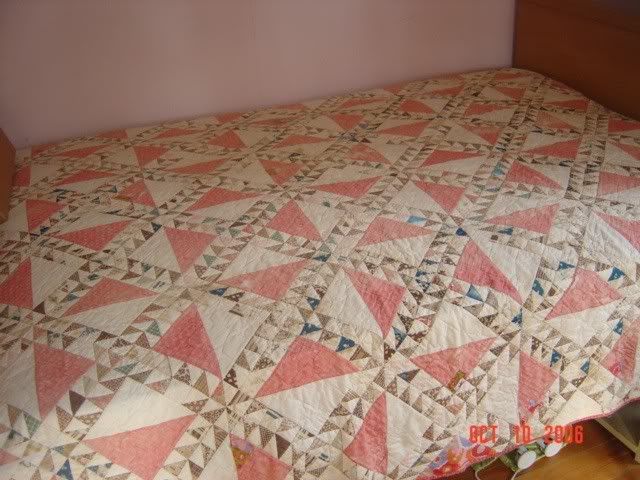 This quilt was made by Ellen Beers Houghtaling during the Civil War.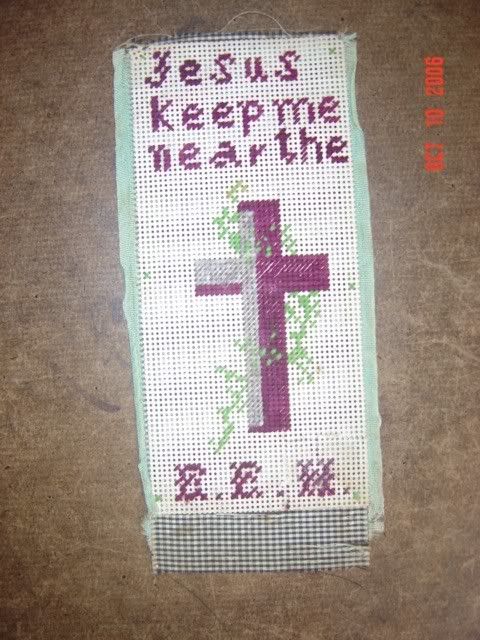 This bookmark was made by Ellen Beers Houghtaling. Note her initials under the cross.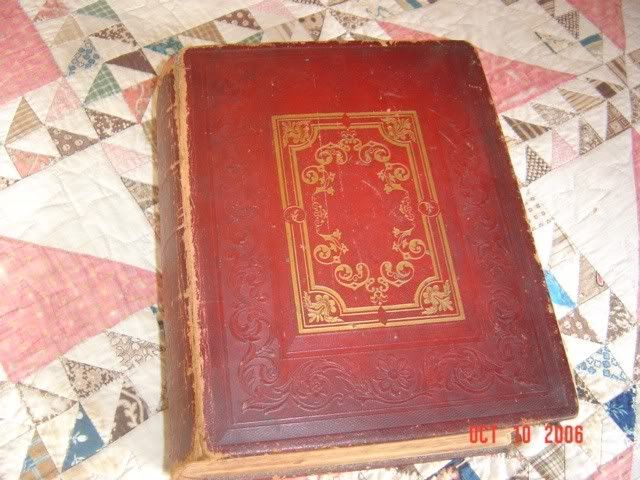 This family Bible belonged to Hiram Houghtaling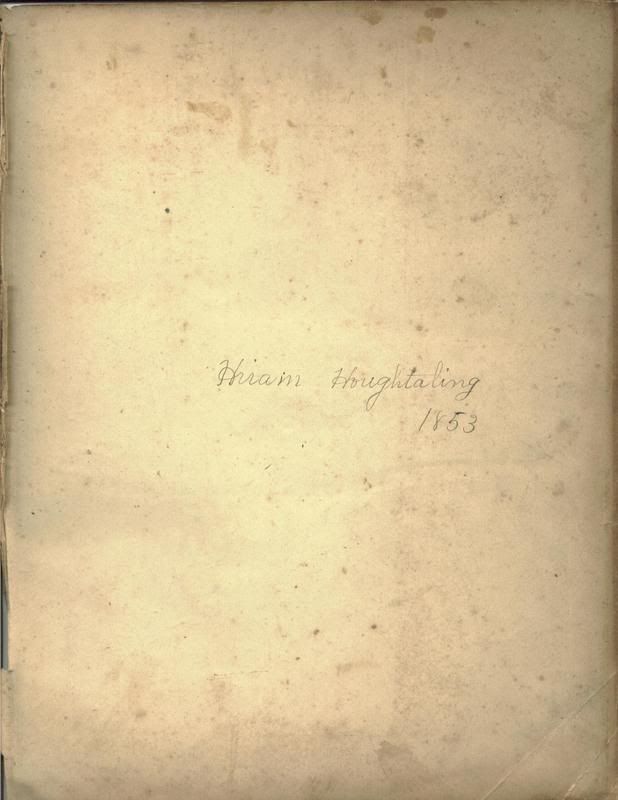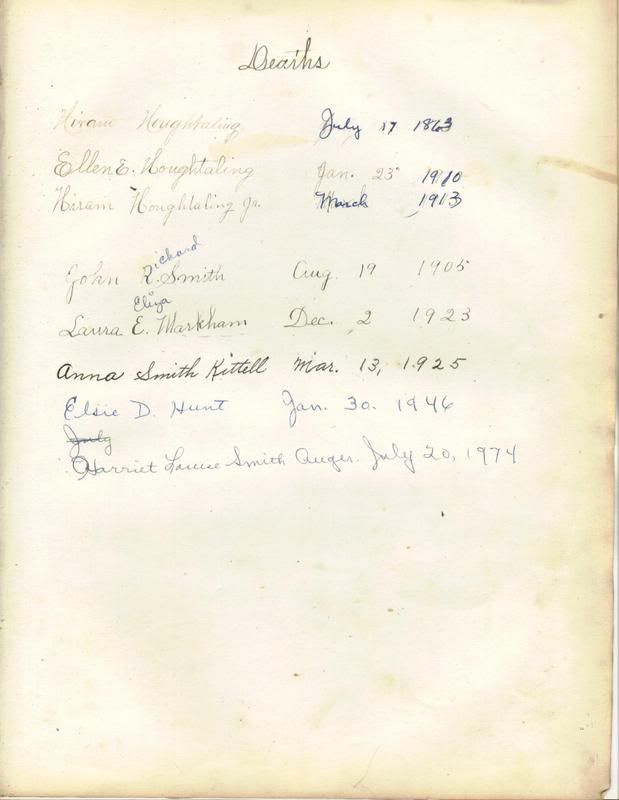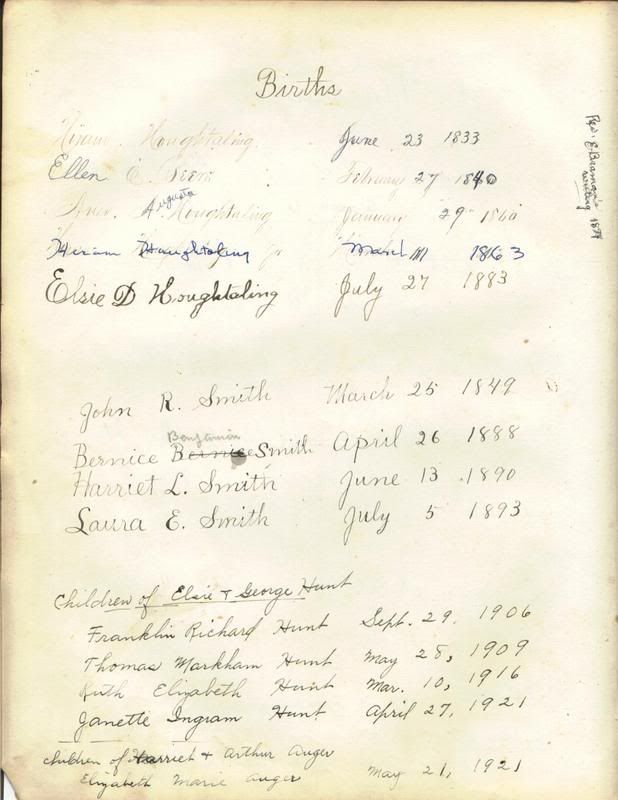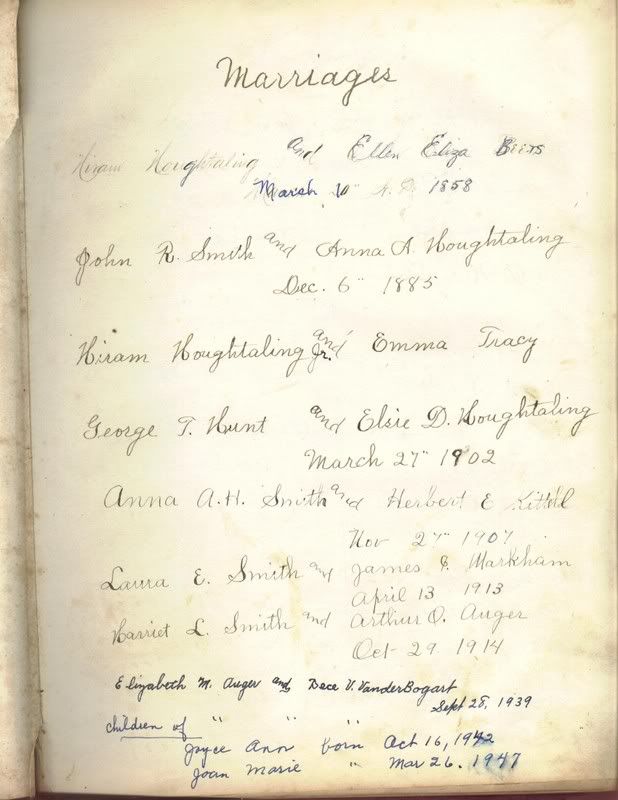 The above pages are found in the Bible belonging to Hiram Houghtaling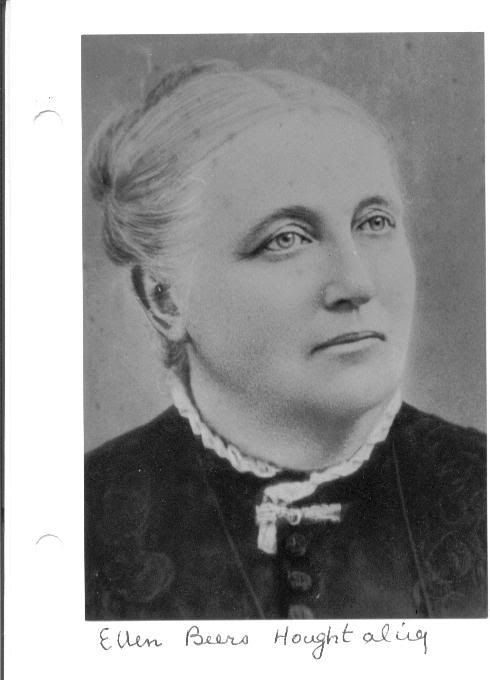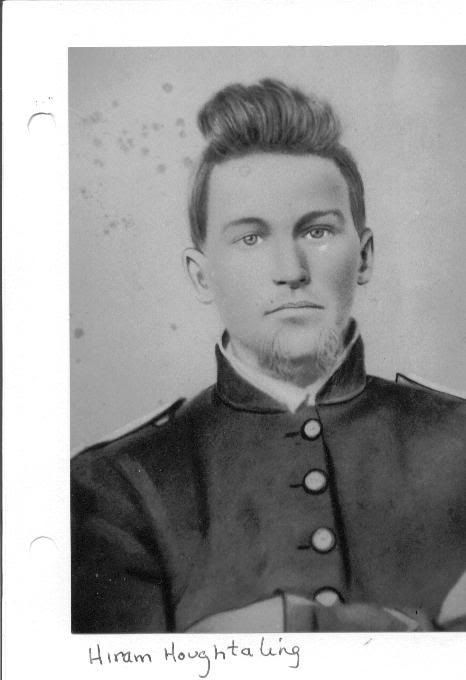 This sampler was done by Melanie Cartier Auger when she was about 12 years old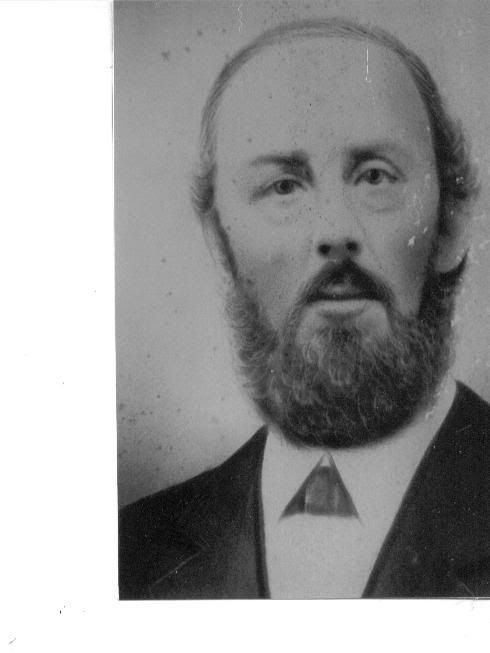 James Markham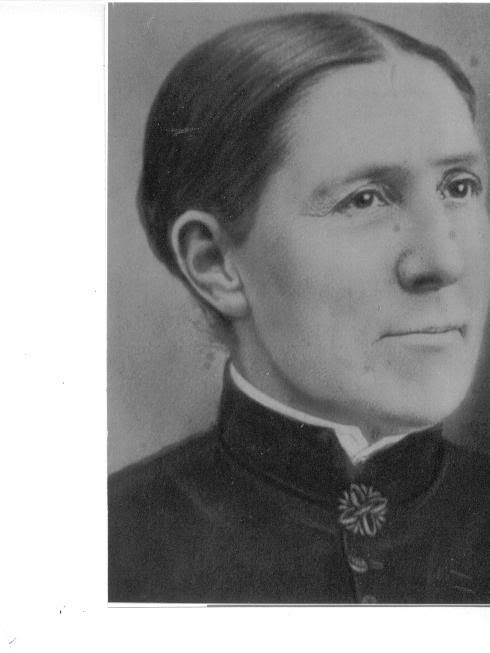 Janet Ingram Markham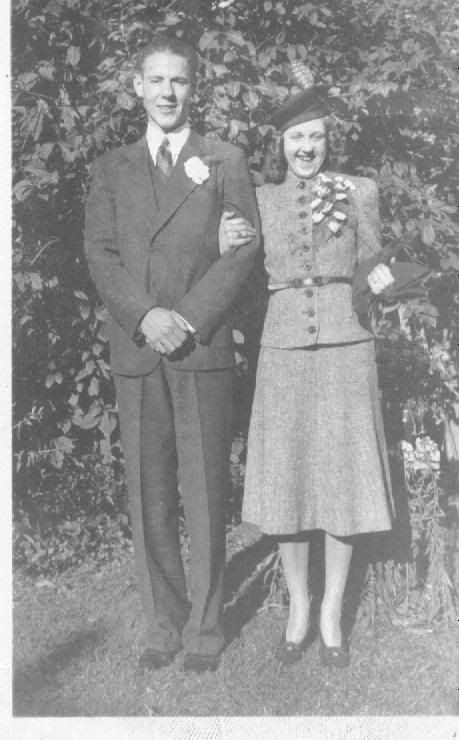 This is Dece Vanderbogart and Betty Auger on their wedding day, 1939.

This is a more recent picture of them. (Note from Tina: I met them in October, 2006, and totally enjoyed their company. They told stories about Stephentown and growing up, which I found to be so interesting. They are lovely people and I thank them for a wonderful afternoon. Thanks too to their daughter Joyce for that day and for all that she has done for the site.)